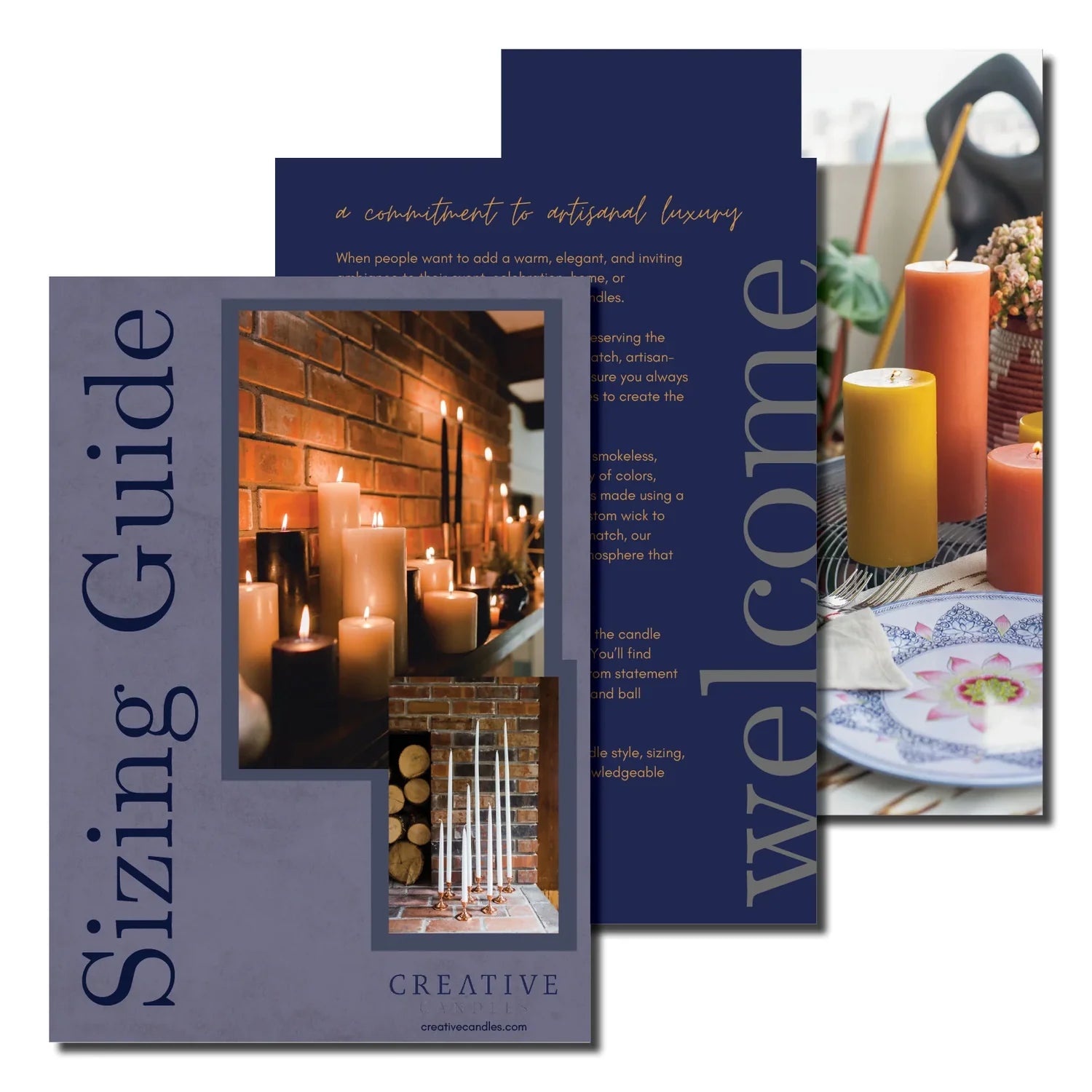 Bring warmth and elegance to any space or celebration
Powerful pillars. Charming tealights. Whimsical floating discs. There are so many options for creating a relaxed and inviting ambiance that it can be tough to find the candles of your dreams.
But with our one-stop Candle Sizing Guide, you can see the variety of striking selections available through Creative Candles. And the best part is that every luxury candle we craft is smokeless, dripless, slow burning, and deliciously aromatic.
Pillar Candles
Pillar candles are characterized by their wide base and body, which allow them to stand securely in a bowl or on a flat surface. Our line of pillar candles has been individually flame polished to achieve a stunning matte finish.
Contemporary Pillar Candle Size
A confident statement piece with a sizable 6" base and three wicks to allow for a full-bodied burning experience.
Classic Pillar Candle Size
A timeless classic with a 3" base that offers a relaxed, satisfying glow.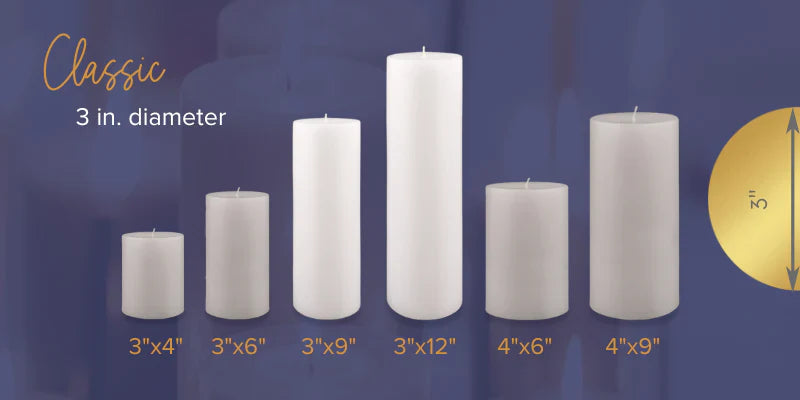 Petite Pillar Candle Size
At just 2" in diameter, these miniature beauties perfectly complement wider classic pillars or stand alone in vases or pillar displays.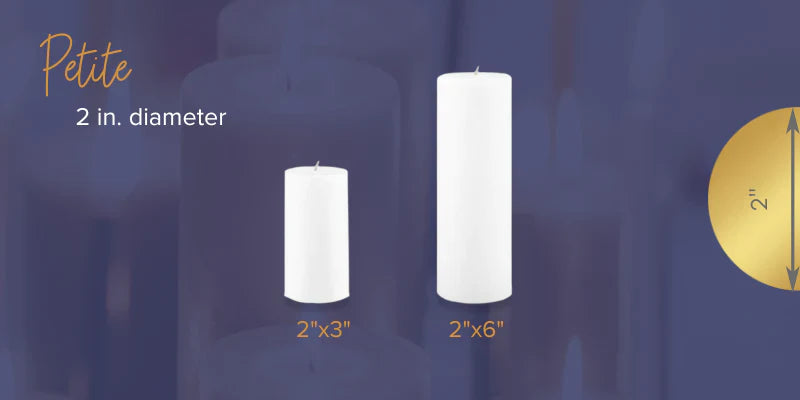 Taper Candles 
Taper candles are long, slender candles that gradually narrow toward the top, giving them a delicate and sophisticated appearance. After hand-stringing each chandelier, Creative Candles tapers are dipped up to 27 times to reach optimal size and shape.
Classic Taper Candle Size
The original. Each candle requires 27 dips to reach ⅞" diameter, the ideal taper width.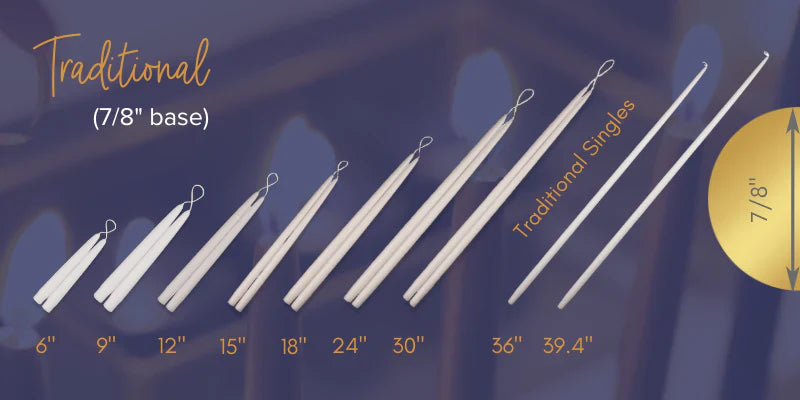 Thin Taper Candle Size
A contemporary twist with an even more slender ½" diameter to further emphasize their attractive qualities.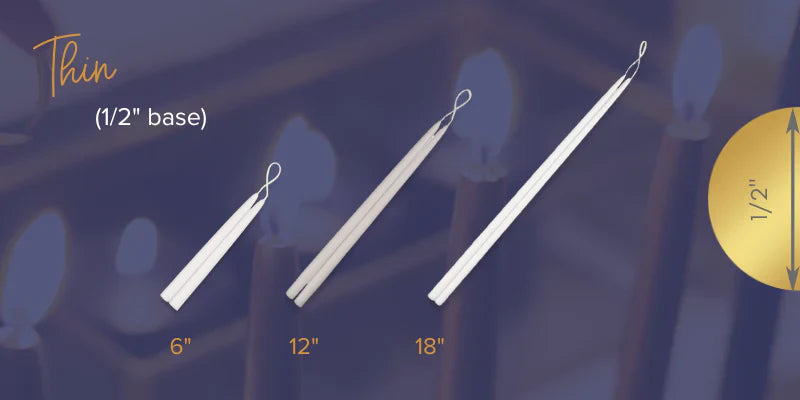 Celebration Candle Size
These dainty candles measure just ¼" in diameter and give off a uniquely graceful sparkle.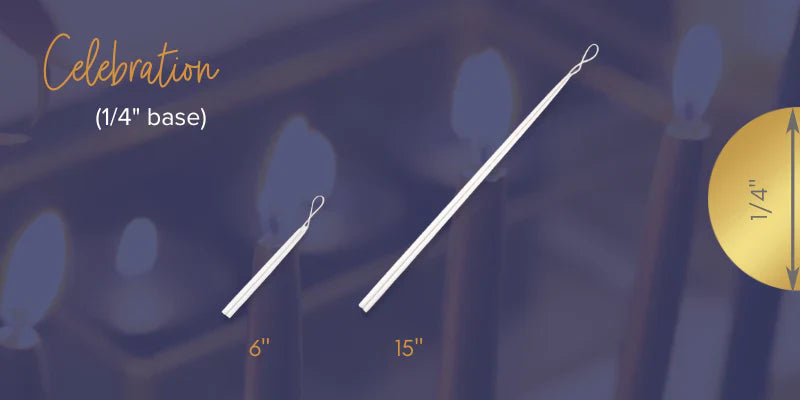 Ball Candles
Ball candles are little spheres that are perfect for creating a whimsical and playful atmosphere. Their flattened bases allow them to sit on their own or in a wide holder.
Ball Candle Sizes
Our uniquely shaped candles come in a variety of sizes, from small 2" versions to extra-large 4".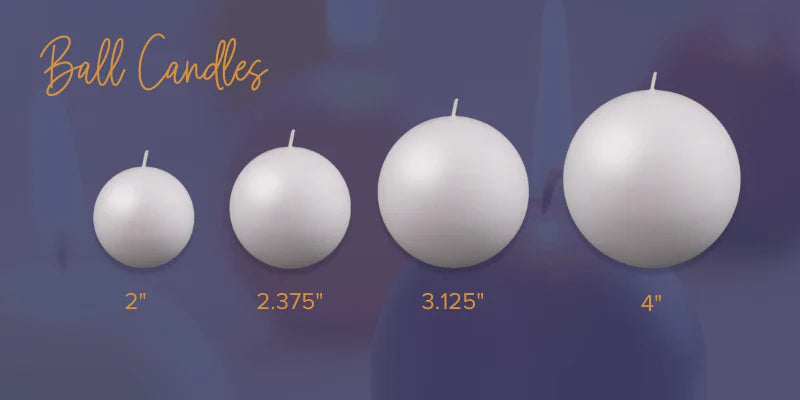 Floating Candles 
Floating candles are made from unique wax ingredients that allow them to bob along the surface water. They're usually cylindrical or oval shaped for extra buoyancy.
Floating Candle Sizes
Our floating candles are 2" to 3" in diameter, and are a beautiful fit for a vase, bowl of water, or even koi pond.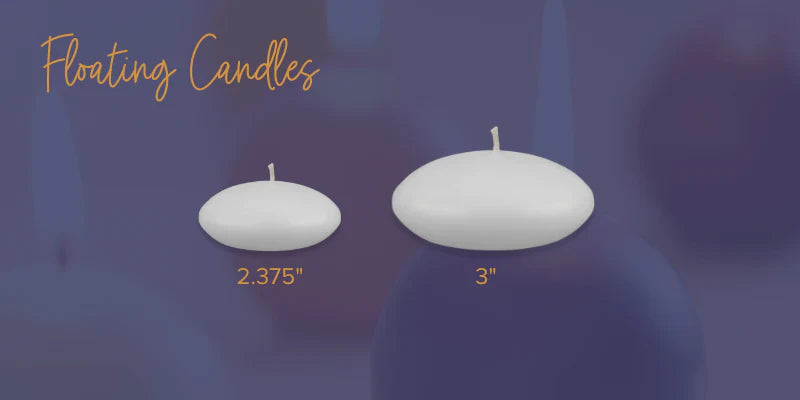 Votive and Tealight Candle Sizes
Votive candles are about 2" in height and diameter, with a bell-top design that allows the wax to melt evenly. Tealights are smaller and typically round, measuring around 1.5 inches in diameter and 0.5 inches in height.